The Continued Modernization of the NHHS Campus
Without an open outlet or physical grounding to their school, students at North Hollywood, especially freshmen, are feeling more detached from their now foreign campus than ever.
 When the virus broadened across the globe and rendered us incapable of meeting in-person, it proved an obstacle to that same tangible experience of meaningful education; however, with now vacant classrooms and buildings alike, the question remains: what is going to happen with construction at NHHS?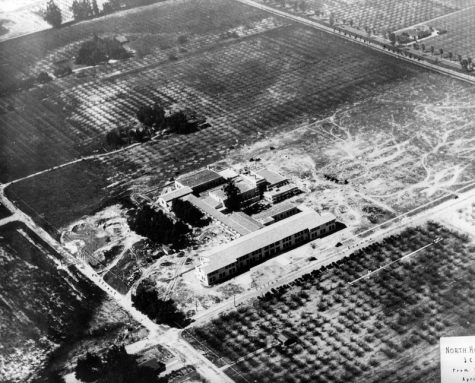 The North Hollywood campus is not exactly one that students would feel obliged to write home about. As a public school whose model was designed by 1920s Californian architect Myron Hunt, the campus is, at the very least, outdated.
Change was deemed necessary, and around 2015, the plan for NoHo modernization was proposed. Removal of the trees surrounding the quad was the first step in this long process. And before we knew it, not only were the trees replaced by patches of sand and gravel, but construction on the NHHS field also then took off (with the notable closing of Colfax gates).
Accordingly, this is the last memory we left off with, and is, as far as we know, how far construction has reached. However, with students now pushed out of classrooms, construction continues. 
NHHS President Xavier Chavez states, "The construction has not been affected by COVID and is one of those professions that wasn't allowed to stop. Recently, we finished phase 0 (demolition of the auditorium and bungalow rooms) in preparation for phase 1, which will consist of building the new Kennedy Hall and gymnasium", respectively allowing for classrooms and boys/girls locker rooms to be situated into one area instead of throughout the campus. 
According to Chavez, construction has neither sped up nor slowed down, as it was initially delayed due to closed government entity sponsors, but is back on track due to the empty campus. Workers will continue to work their 7am-9pm, Monday-Friday shifts, and an 8am-6pm shift on Saturdays.
With a budget of around $266 million, construction is set to take place until December 2025, long after many people reading this have graduated. In the future, there are many planned, mechanical upgrades in order to address critical work and safety hazards NHHS has previously struggled with—including the installation of a fire sprinkler system.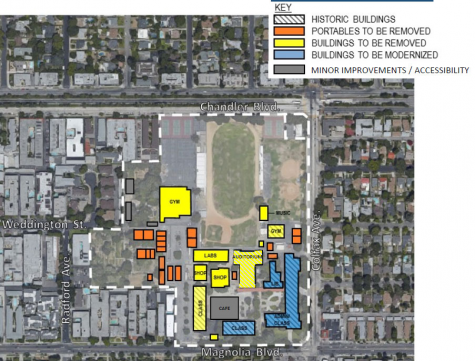 The school is also operating on broad infrastructure upgrades, proven to be possible through working with CO architects, and it [the school] will continue to work with new architects per each operation phase. 
As of right now, planned renovations are to attenuate NoHo's agricultural feel, and provide a bucolic feeling through longer walkways and even a tree exhibit.
As more and more areas seek change, modernization is being met with more fervor than ever, a growing sign of an increasingly industrialized world. 
Of course, NoHo is one of many areas in the LA region, and one of many areas around the world to continue modernization, and maybe one day us current students can revisit the then renovated NHHS.
For more information, visit the link down below (pages 8-15 show pictures of how the future NHHS is supposed to look like):
https://www.nhhs.net/ourpages/auto/2018/1/10/69367329/10-2019%20Community%20Meeting.pdf
Leave a Comment
Your donation will support the student journalists of North Hollywood High School. Your contribution will allow us to purchase equipment and cover our annual website hosting costs.