The Golden Ticket to Campus
What is the "Daily Pass"?
As the much-discussed reopening of campuses draws closer, a new strategy for a safe return to classrooms has been launched. 
Los Angeles Unified School District Superintendent Austin Beutner announced the "Daily Pass" in the February 22nd edition of his weekly updates. The Daily Pass is LAUSD and Microsoft's new tool to monitor the spread of the coronavirus within their students.
The app offers resources for students and families to keep them safe during the return to campus in late April. Users of the app can book COVID test appointments and upload their results. 
Other features of the app include, "registration and scheduling, tracking of vaccines in stock…as well as dashboards to view all this information..," Beutner said in his introduction of the program. 
As stated by Beutner, "..all Los Angeles Unified employees, students 13 years or older, family members and school visitors," are able to use the Daily Pass weekly to schedule testing appointments and upload results. It will also be used as a mandatory entry ticket to campus. 
After users input health information, through a "Daily Health Che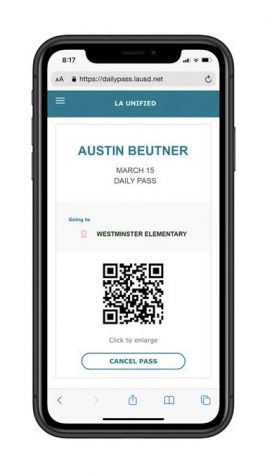 ck," into the app, it is reviewed by, "the appropriate authorities," according to Beutner. Students will receive a QR code if they have approved results. 
"Sort of like the Golden Ticket in Willy Wonka..," compared Beutner.
The code grants each student access onto campus and inside classrooms. Employees scan the codes one by one at their school's entrance. Those attempting to enter without a suitable device go through the entire Daily Pass process in person. 
North Hollywood High School teacher Irma Griffiths said, "One of the teachers was like, 'What if a student doesn't have a phone?'…[in that case] we would just have to check them in manually."
The app is already in use in LAUSD schools for weekend tutoring on participating campuses. 
"The way I've used it before, because you know we have Saturday tutoring, is just that the kids go get tested and then they just show up with a pass and then we just scan them in…once you're scanning them, it just gives you a go-ahead if they've been tested and if it's been a negative test," said Griffiths on her experience with the app.
Griffiths continued on to share, "They're also using it for sports already. For the athletes that are going in already, they've been using it." 
North Hollywood High School student Nicole Billotti also provided her input, saying, "When I first saw the pass, I noticed how easy it was to use…I think parents and students will find it very simple and accessible."
Griffiths revealed that the app is said to work better on iPhones rather than And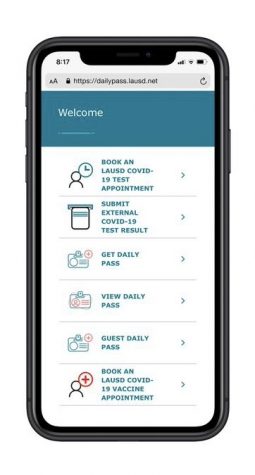 roid cell phones.
"That's the feedback I've been hearing from people, that it works better on iPhones…I can only speak for the iPhone…I think it works well," she said.
So far, the app has proven itself to perform effectively for the return to in-person schooling. Griffiths and Billotti have hope for the resource when students and faculty return to school in April. 
"I think it's gonna work," concluded Griffiths.
"I trust it," Billotti stated. "I'm glad things are being handled so safely."
For further information and/or instructions on LAUSD's Daily Pass, visit lausd.net. The site also provides a simple, yet detailed, introductory video.
Leave a Comment
Your donation will support the student journalists of North Hollywood High School. Your contribution will allow us to purchase equipment and cover our annual website hosting costs.