What Happens When LAUSD Students or Staff Members Test Positive for COVID-19?
It's been almost a month since the gates to all Los Angeles Unified School District campuses were reopened and in that short amount of time, nearly 80 students and employees have tested positive for coronavirus.
The first announcement of COVID-19 cases within LAUSD schools was given by Superintendent Austin Beutner in an update on May 3rd, 2021, only a week after the return of in-person learning.
"This past week [we] saw 21 students and 7 staff members who had returned to school test positive for COVID-19 in the school-based testing program," said Beutner.
Beutner's messages remained the source for case numbers as they continued to grow throughout the next two weeks.
As of the week of May 10th, 2021, another, "15 students and 2 staff members..," were added to the total. 
Continuing into the next week, May 17th, 2021, it was declared that, "2 student-athletes, as well as 24 students and 4 staff members who are at schools tested positive for COVID-19."
Superintendent Beutner followed each of these reports with the same statement.
"Los Angeles Unified's contact tracing team contacted nearly everyone with a positive COVID test within a day of the test being taken. School principals are informed and able to prevent the individuals with the virus from coming back on school campuses until they are no longer contagious."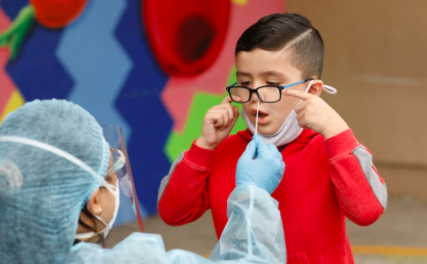 Information gathered from lausd.net and Beutner's messages, stated that LAUSD's protocol for handling a positive COVID test requires the person to isolate immediately.
All, "household members, coworkers and students who may have been in contact with the individual who tested positive," are notified and directed to take a new coronavirus test.
Any of the exposed individuals that test positive or are confirmed to have been in direct contact with the original person begin quarantine straight away.
The school then provides simple instructions for the home isolations from LAUSD.
"Stay home until at least 10 days have passed since symptoms first appeared and there is no fever for at least 24 hours (without the use of fever-reducing medication). Anyone who has a condition that severely weakens the immune system may need to stay home for longer than 10 days. Consult with your healthcare provider. Symptoms have improved (for example, cough or shortness of breath). A person who has tested positive should not be tested again for at least 90 days in order to avoid a false-positive result," lausd.net's FAQ says.
The district site continues with instruction for those who contract COVID-19 but show no symptoms. 
"You must stay home for 10 days after the test was taken. If you develop symptoms, you need to follow the instructions [previously provided]."
Continuing to follow LAUSD's procedure, Friedman added a list of ways to help cease the spread of the virus as well as information on close contacts. 
"All confirmed and presumed cases should be isolated for a minimum of 10 days and close contacts quarantined for 14 days from last exposure and monitored for symptoms in order to prevent illness in new persons… being within 6 feet of the infected person for 15 minutes or more in a 24-hour period, even if wearing a non-medical face covering; or having unprotected contact with the infected person's body fluids and/or secretions, for example, being coughed or sneezed on," wrote Friedman.
After the required students and staff quarantine for the correct amount of time and show no signs of COVID-19, they can return to their campus for hybrid learning. No doctor's note or negative test is necessary, only clearance from LAUSD's Community Engagement Team. As long as they are no longer contagious, they can resume their normal school routine.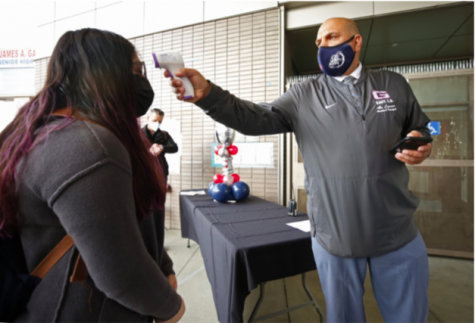 The number of COVID cases is predicted to continue to rise through the end of the school year. LAUSD's so far successful plans for these situations remain unchanged.
More information on LAUSD's steps to keep campuses safe on lausd.net
Leave a Comment
Your donation will support the student journalists of North Hollywood High School. Your contribution will allow us to purchase equipment and cover our annual website hosting costs.