Vaccinations: A New Phase in Coronavirus
There have been many restrictions resulting from the coronavirus such as having to wear masks on a daily basis, obtaining vaccinations, and getting tested regularly. Fortunately for people who have been vaccinated, the third requirement can largely be ignored. 
According to the Centers for Disease Control and Prevention, people who have been fully vaccinated and display no symptoms of coronavirus do not need to be tested even if they are within range of an infected person. 
This shows that over the course of this pandemic, the methods of dealing with coronavirus have shifted from testing to vaccines. Now, approximately half of the American population has been vaccinated.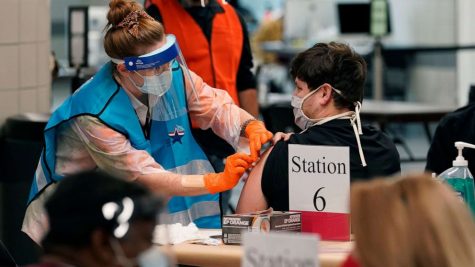 Even a person such as Dr. David Patiel from Yale's School of Public Health, who advocated for testing earlier this year, says it is time to ask "whether the benefits of testing outweigh the costs – which are lots of disruptions, lots of confusion, and very little clinical or public health benefit."
Of course there is still the small possibility that a vaccinated person ends up testing positive for coronavirus but even so, there is a small possibility of significant consequences. According to CDC director Rochelle Walensky, vaccinated people who contract coronavirus typically exhibit milder symptoms and are less likely to infect others.
While conditions are improving all-around, some argue that depicting the situation as minor and sharply transitioning from testing to no testing makes people less cautious when there are still thousands of cases reported every day. 
Dr. Michael Mina of Harvard University still believes that screening is important, especially for workers who regularly interact with the public. 
Additionally, there are hardships associated with distinguishing vaccinated people from who have not been vaccinated. In the work field, it is still difficult for employers to force employees to reveal their vaccination status because the vaccines are not mandatory and this decision is based on individual private factors. 
The decisions regarding testing are unclear but thankfully there are enough tests if needed. About a million tests are received in the US per day, not counting tests done at home and in the workplace. Researchers at Arizona State University state that the US will be able to have 500 million monthly tests in June if rates continue this way. 
The large availability of tests and vaccines can partly be attributed to the push for places to reopen, particularly schools. Now that many students including those twelve and older are being vaccinated, there is no longer a pressing need for them to be tested on campus. 
This brings up the question of whether North Hollywood should continue to administer tests or if there should come a point when only vaccinations are required. Either way, the CDC's recent announcement on testing shows we have come a long way since the beginning of the pandemic and it is only a matter of time before things return to semi-normal. 
Leave a Comment
Your donation will support the student journalists of North Hollywood High School. Your contribution will allow us to purchase equipment and cover our annual website hosting costs.