What a time to be a husky
The future plans of our Husky Seniors!
By the first semester of senior year, the majority of North Hollywood High School seniors already have an idea of what they wish to pursue after high school, with immense support from teachers and staff that have aided their personal growth throughout the last 3 years.
Brittney De Leon, who has been a part of the North Hollywood STEM magnet for all four years of high school, plans to attend Santa Monica College for two years and transfer to UCLA to major in Criminology with a minor in Psychology. She credits Mr. Silveyra, one of her history teachers at NHHS, for giving her the push she needed to always try her best in school. 
"Something that Mr. Silveyra told me that I should focus on myself and not focus on everyone else and their problems," De Leon recalls. "He just gave me a reality check and helped me focus on what matters the most in high school. He's been my biggest supporter and has been the most excited about my college application process."
Nic Rivera, another NHHS STEM student, has dreamed of becoming a neurosurgeon ever since he was young. Rivera is hoping to attend UCLA and pursue his career in medicine right out of high school. "Some of the administration and teachers have offered advice to me when they notice I'm stressed about something. Ms. Badgen is always pushing me to do my homework and make sure I'm on top of everything; she's even offered to help me with my PIQ's for college," Rivera explained, highlighting how passionate our administrators and teachers are when it comes to encouraging students and their college careers.
Rivera also shares another piece of advice a teacher gave him. "Last year, Ms. Hill told us that junior year is our hardest year because it's the year before college applications, but senior year is just as hard because everyone gets hit by just being done with school. You don't wanna miss out on life; have fun and do the things you wanna do. Don't hold back."
On being tasked not only with deciding our classes but with deciding our futures, Rivera offers advice of his own. "For the future graduating classes, have fun with high school, and do that sport you wanna do. Don't take a class you know won't play a role in your future, and don't put that extra stress on yourself."
Edward Mateo, senior president of Future Farmers of America and member of the North Hollywood Academy, wants to become a veterinarian after graduating high school. He plans to attend Pierce College for his general education and transfer to UC Davis to help him achieve his dream. He says that he was drawn to Davis because of its respected programs in agriculture and animal sciences. "The agriculture area is the best resource I've been given. Having the vet come to the school and teach us about the animals and how to give them shots is one of the best resources the school could have provided us," Mateo said. 
"A lot of my teachers have helped prepare me for after high school, helping me get used to not having a set schedule like I do now," he says, and his advice to perspective agriculture students is this: "Have fun, and if you're given the chance or the opportunity to take Agriculture, don't skip on it. It's an amazing opportunity to experience." 
Daniel Campos, who has been a part of the zoo magnet for all four years of high school and a catcher of our very own varsity baseball team, dreams of life as a professional baseball player or even a baseball coach. 
"I love baseball, it's almost as if it's a part of me. There is no feeling of intensity that compares to playing and that feeling is what makes this sport so special to me. Without this sport, I would be empty," Campos stated in regards to his passion for baseball.
His teachers have helped keep him motivated and have given him advice at times where he feels the most unmotivated. Bright and well-rounded, he also currently has an internship at the LA Zoo that allows him to learn how to maintain a healthy environment for the animals.
Some of his teachers have helped him by showing him different ways of dealing with stress and managing his time efficiently, along with showing him his options after high school, whether he chooses to attend college or not. While it may seem scary, Campos says that he is prepared for life outside of high school because his teachers and administrators have supplied him with great advice for his future in the workforce.
Alani Nixon, a Highly Gifted Magnet senior for her four years at North Hollywood High School, plans on attending USC. She plans to pursue her passion for music with a career in music production, but she also has an interest in film and cinematography.
"Taking so many college courses thanks to the HGM program has helped prepare me for the life I'm gonna face when I'm in college," Nixon shared when asked how her teachers and staff have supported her future after high school. "The workshop the College Center hosted for HGM students helped me with my personal statement essays because I got a lot of good feedback."
Nixon states that her English classes have been the most beneficial towards her academic career. The focus on craft and organizational structure in writing has helped her communicate her ideas in a more coherent manner, which she feels is an invaluable tool in today's workforce.
Nataly Pastukhov is a School for Advanced Studies senior at North Hollywood High School and is planning on attending UC Santa Barbara so she can pursue a career in law. "Honestly, my teachers have helped prepare me for my future because they're constantly throwing me curveballs. Making sure I am on top of my toes and on my best game, giving me the ability to adapt to some of the most challenging situations – a skill I'll definitely need in the future, seeing as how in the real world you're constantly getting hit with curveballs."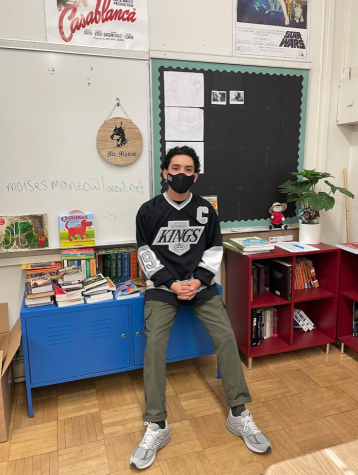 Mr. Manzo, Pastukhov's current English teacher, was a very helpful asset in preparing her because he gave their class an assignment that required them to write a personal insight essay, giving them the chance to get ahead of the race with their PIQs. He also gave them feedback and suggestions on their essays to prepare them as much as possible for college applications.
She says that the most valuable skill she has gained at NHHS is time management, and learning how to avoid procrastination. Having a good balance of fun elective classes and necessary academic classes have made school enjoyable and encouraged her to do well. Painting and filmmaking are classes she enjoys because they give her an outlet to showcase her creative side and learn more about the arts. 
Mr. Manzo, a first year English teacher here at North Hollywood HIgh School, has a clear mission for his students: "to make sure every student realizes that every action and every thought has a consequence; that they understand the gravity of those decisions so they can grasp the notion that they affect others and can be affected by others in the world." 
Mr. Manzo offers his students accessibility to any of the books in his classroom, ranging across all reading levels and especially encouraging students to immerse themselves in literature. He also offers his time as a resource to his students, to listen and understand and even give them advice if they need it.
Mr Manzo is one of the many teachers here who strives to understand each of his students on an individual level and adjust his teaching methods based on each student's needs. He says about his teaching philosophy, "Every year, teachers get a new body of students, and in order to help them you need to understand who they are, what are their circumstances in which they are learning and growing so that I can be of better service." He shows understanding and empathy towards his students in hopes that they will reflect compassion toward others in their lives.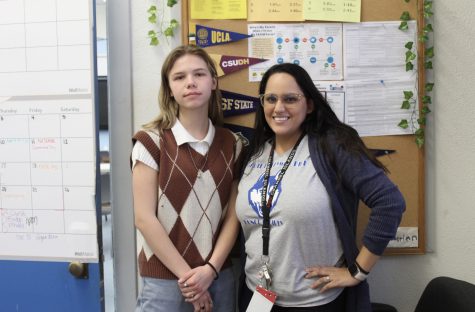 Ms. Betancourt is a college counselor whose goal is to make students feel welcome at the College Center and be aware of all of the resources the center offers before it's time to apply to college. Another goal of hers is to bring different colleges to campus so that all the students can know what opportunities are out there for them as early as possible, ideally during their first semester of school. She emphasizes hosting lesser known colleges hoping to widen student choices for when they're doing research on colleges. However, regardless of a student's aspirations for after high school – whether they plan to attend a 4-year, a community college, or if they decide that college isn't for them – she offers many programs to help students feel confident in graduating high school and having a goal.
An amazing resource the College Center offers is the opportunity to meet with specific colleges and ask questions. Every Tuesday, they have workshops to help with student applications as well as assisting seniors with their FAFSA and other forms of financial aid. Pastukhov and Rivera have both stated that the College Center is an incredible resource because it is not limited to upperclassmen, but instead offers services to all grades and prioritizes the college pursuits of all students equally.
Ms. Betancourt talks about what inspired her to become a college counselor. "I was working as an assistant for a college counselor when I was working on my master's to become a therapist, but I just loved helping the kids. So my motivation was to just help the kids with where they wanted to go because when I was in high school I didn't have that, and I think I would have benefited from something like that." She believes that the College Center is a resource every high school should have, and every student should have access to, whether they take advantage of it or not.
Ms. Badgen is one of NHHS' assistant principals, and some of her responsibilities include managing clubs, athletics, events, ASB, student council, Spanish, and the Student Store. Her goal as an administrator is to inspire students "to be better human beings, to graduate high school, and to make the world a better place." She wants them to follow the things that make them happy and bring them joy rather than follow a monotonous routine and lifestyle. When students go to Ms. Badgen, she offers a listening ear, checks their grades and keeps them on track with school. 
"What made me become an administrator was wanting to help shape students into better people. I started off as a teacher but that was a small scope, so I thought bigger and bigger to gain access to more students so I can help students be happy and kind," Ms. Badgen explained when asked about her goals in her position. "I prefer students to follow their passions but I also believe that college is a big catalyst in most people's passions. I don't think it's the only road, but I think everyone should be prepared to go to college and have the skills for college so they aren't limited to opportunities."
Pastukhov gives advice to the future graduating class: "Time never stops: your life is always going to be filled with changes. Those changes are going to bring you challenges that seem almost impossible to overcome, but you shouldn't stop pushing yourself to do better. Sometimes in this big world, you're going to feel stressed and alone, and in those moments you have to remember that you have the ability to keep going, you just need a push. Continue to always push forward, to overcome challenges, and to meet people and make memories that make it all worth it."
Leave a Comment
Your donation will support the student journalists of North Hollywood High School. Your contribution will allow us to purchase equipment and cover our annual website hosting costs.