North Hollywood Ceramics Teacher: Jeanne Lavieri
The life behind a teacher
Jeanne Lavieri, North Hollywood High School's Ceramics teacher, opens up about her early life as an artist and her current life as a teacher.
Ms. Lavieri has been a teacher for NHHS for twelve years, and LAUSD for twenty-four. "Ceramics is my favorite thing to teach and to do," she says. "I love this school because of its diversity and enthusiasm."
Ms. Laveiri says her life as an artist was instigated when she was a little girl, by the woman who took care of her while her mother worked. "When she had her coffee break, in the middle of the morning," Lavieri said, "she'd sit me on her lap and I'd say, 'draw a camel' and she'd draw it. 'Draw a flower' and she'd draw it. That was when I first loved art."
Ms. Lavieri described her early life as an artist as gradual. "I just liked making things. I liked drawing." she said, "I was given positive attention for it. It was my favorite part of the school week, so in between home and school, I was making things and drawing."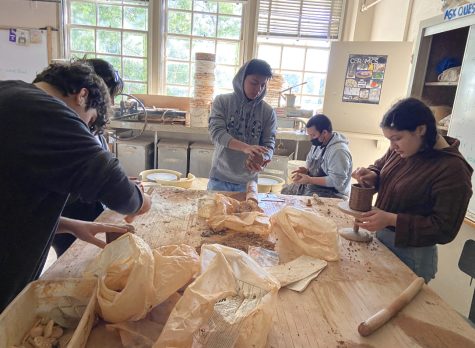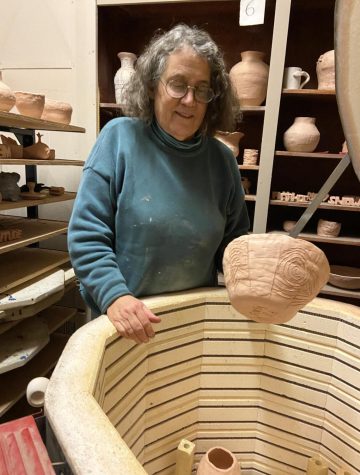 When it comes to her life as a teacher, Ms. Lavieri said, "I've always enjoyed helping other people. When I was in elementary school, my sister taught me how to read before I got to school. So, my teacher from second grade needed help teaching students to read…she had me sit in a circle with students and help them learn how to read." 
Ms. Lavieri said she began teaching middle school, in which she said she was nervous and made a lot of mistakes.  "I wasn't very patient with my students because I was afraid if they made a mistake I'd look bad and my bosses would think that I wasn't a good teacher," she said, "I was afraid that their mistakes would get me in trouble. Then, I started correcting mistakes instead of worrying too much."
Over time, Ms. Lavieri said, she has learned to listen to her students more and to be compassionate and understanding when it comes to her classwork and grading. She said she has learned from the diversity in her students and learned to appreciate their cultures. Ms. Lavieri also said, "I've learned to design a class to give people who are afraid more of a chance to participate."
Although Ms. Lavieri has worked as a teacher for many years, she still considers herself an artist. "One of my arts is teaching, and designing a project and designing a year or a semester. To me, I'm creating that." she said, "… that is true for every teacher in this school, who might not think of themselves as artists, but as they design a syllabus or a class, they are creating." Ms. Lavieri said that she finds fresh ideas in every little thing that comes up in life, such as in cooking, writing, and gardening.
Now, Ms. Lavieri said her most looked-for qualities in a student are an open mind and a willing heart. She said she feels that people who have a closed mind are maybe feeling "insecure and don't want to be seen as not knowing something", and close themselves off from learning. When it comes to the willing heart, Ms. Lavieri shows that it's more about commitment. "Do you want to start a project ten times before it's good enough? Those are things required to learn," she said. 
Ms. Lavieri wants to remind all North Hollywood students that they are welcome to visit her classroom during nutrition. "If it looks like something you really wanna try, ask your counselor to take the class," she said.
Keep your eyes open for all our North Hollywood teachers, there is more to them that meets the eye, and you'll be in for a surprise.
Leave a Comment
Your donation will support the student journalists of North Hollywood High School. Your contribution will allow us to purchase equipment and cover our annual website hosting costs.