Track and Field 2023 season
North Hollywood High Schools Track and Field team is chasing gold.
At North Hollywood High School track and field is taken very seriously and they're gearing up for their first match of the season against South Pasadena High School. This match is sure to be a thrilling one.
The North Hollywood High School Track Team is a unique and talented group of athletes. Led by their coach Mr. Rondini, the team consists of multiple members, however, these athletes stood out the most; Christopher Ekdahl, Eli S. Gonzales, Erick Mata, Ian Marte, Jacob Aguilar, and Abraham Metzger. 
Each of these individuals brings a different set of skills and experiences to the team, making them a formidable opponents. Christopher Ekdahl is an experienced sprinter running the 100, 200 meters, and the 4 by 1 with a passion for his sport. 
While Eli S. Gonzales (one of the track captains) is more of an endurance runner with the triple jump, 1, and 2-mile races.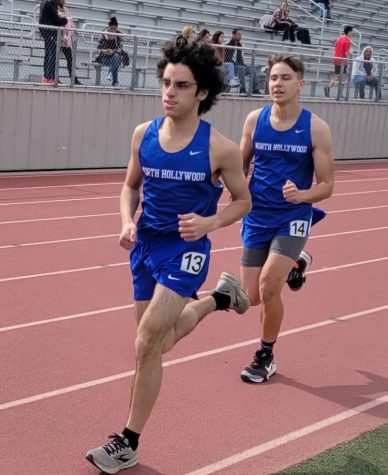 Erick Mata brings a wealth of talents in the 400 meter, 4 by 1, 4 by 4, and the long jump showing true versatility, and Ian Marte specializes in 400m and the long jump showing speed and power with his skills
Jacob Aguilar is an extremely skilled and strong shotputter who shows power and determination at every single one of his meets. Aguilar has been known for participating in both football and track and field since junior year. This year however he's been solely focused on track and field and perfecting his shotput.
 Abraham Metzger shows pure athleticism with the triple jump, long jump, and the 4 by 1. Together, these athletes are the stars of the North Hollywood High School Track Team, a team that is sure to make its mark on the track and field world.
 With their unique set of skills, dedication to their craft, and a unified team spirit, the North Hollywood High School Track Team will surely be a force to be reckoned with in the upcoming track and field season. For the upcoming meet, it will take more than physical strength but also mental strength.
The most overlooked aspect of track and field is the mental aspect. "Having to show up and perform in front of and against strangers is nerve-racking, to say the least" says Gonzales. Commitment to the sport helps the athletes stay consistent and determined in the race. The teams' mental strength will play a key role in the upcoming meet with South Pasadena High school.
An overview of South Pasadena High School's track team gives an insight into the caliber of their competition. According to S Zikman in their 2009 article, "The Impact of Sports on School Community Relations", South Pasadena High School is known for its excellent track program. The program is renowned for its strong record of success, having won multiple state championships. In addition to their impressive record, the team has a reputation for producing talented athletes. Many of these athletes have gone on to compete at the collegiate and professional levels.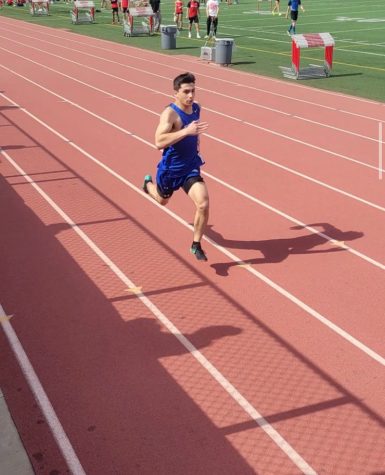 South Pasadena High School's track team is a formidable opponent and will be a challenge for any team they face. "South Pasadena is definitely well known for their track program, but despite that, we did hold our own ground last year" Said Aguilar The school's strong track program and reputation for success will likely prove to be a difficult obstacle for the upcoming team to overcome.
Although the track meet with South Pasadena will be postponed due to heavy rain the expectations remain high for the meet. The meet will be postponed for about a week hopefully sooner if the conditions clear up. These athletes are itching to get back into their season.
Christopher Ekdahl and Eli S. Gonzales are two standout athletes in track and field events. Ekdahl is a sprinter and competes in the 100-meter and 200-meter events as well as the 4 by 1 relay. His speed and agility make him an exciting competitor to watch, as he consistently delivers stunning performances. Gonzales, on the other hand, is a triple jumper and a standout in the one-mile event. He is renowned for his incredible jumping ability and his impressive speed in the one-mile event.
 Both athletes have demonstrated remarkable performances in their respective events, proving that they are two of the best track and field athletes in the world. Their commitment to excellence and passion for the sport has made them two of the most celebrated athletes in the world, and they have both earned their place in the record books. 
These two athletes are the perfect examples of what it takes to become a successful track and field athlete, and their performances are a testament to the skill and determination required of those who hope to compete at the highest levels.
The North Hollywood High Track team had a great season last year, led by standout performers Christopher Ekdahl, Eli S. Gonzales, Erick Mata, Ian Marte, Jacob Aguilar, and Abraham Metzger. The team was strong in events like the 100-meter and 200-meter, triple jump, shot put, 1-mile and 2-mile events. They achieved success against strong opponents and will look to have an even better season this year. 
The North Hollywood High Track team represents the best that North Hollywood High School has to offer and with hard work and determination, is sure to be successful in all of its future endeavors.