Zoolapalooza!
Zoo Magnet and Noho ASB's event.
Zoolapalooza is an event that occurred on April 21st at North Hollywood High School. Zoolapalooza is a music festival where you can hang out, play games, and listen to music!
Students can be involved with Zoolapalooza in several ways. There are multiple committees such as decorations, games, publicity, clean up, set up, and more. 
Celine Gomez-Lau is head of the games committee. Meaning the committee comes up with games and activities they will be hosting as well as purchasing the materials needed for her respective committee. 
Jamie Pugsley is one of the heads of the decorations committee. Her committee is in charge of planning a theme for Zoolapalooza and purchasing decorations and crafting whatever they can with the materials that are provided. 
Working towards Zoolapalooza is a team effort and always a fun experience. Pugsley describes, "My committee is composed of close friends who I am lucky enough to work with on a daily basis. We run ideas by each other, brainstorm, tag team crafts, and rely on each other when it comes to trying to make events such as this the best they can be." 
Planning Zoolapalooza is not only a fun experience but also a learning one. "Working with the rest of my committee and the other students is a very fun experience. You get to hear your peers' advice and listen to their ideas. You also can learn a lot and improve on things, with the help of peers." explained Gomez-Lau.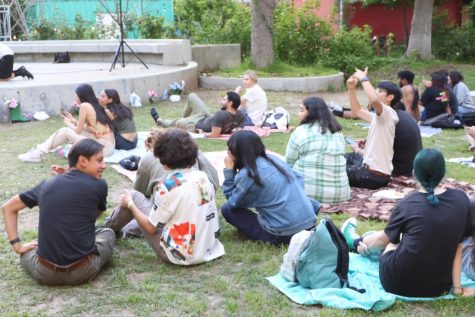 Zoolapaloza is a time for students to come together as a community to care for and nurture our planet. Zoo Magnet is a relatively tight community considering it's a small-scale academy but Zoolapalooza is a chance for the rest of Noho to experience fun and celebrate our community. 
Pugsley commented, "I think Zoola represents the community that cares for our planet and its people here at North Hollywood and is a fantastic event for the collaboration between Zoo Crew and NoHo ASB." 
The main attraction of Zoolapalooza is the music that will be performed by Noho students. Students perform throughout the festival for guests to enjoy. 
With a variety of music, there will be performances including metal/punk rock, jazz, R&B, and many more! 
Our very own Royal Regiment performing in a Sax Quartet. Students Miguel Estrada, Daniel Wijedasa, Victoria Espinosa, and Euri Sakamoto played on various Saxophones and Jake Tanda played the drums. 
Wijedasa says "We want the chance to express ourselves, connect with others, and also have fun."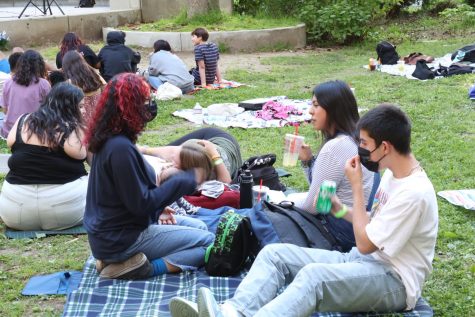 When performing last year he enjoyed the crowd and the audience even sang along to their performance. Wijedasa performed with a group by the name "KNEDD" but he continues to say "This time I'm performing with a different group of people and the instrumentation is also very different. I think the crowd will enjoy the musical variety we have, and I can't wait!"
Wijedasa explains "I love performing! Performing provides me with the opportunity to express myself in ways that words can't seem to reach. I also love to get the chance to connect with more musicians and people. It creates an environment where anyone can have a great time and their own unique experience." 
Alani Sky Nixon, a performer from last year's Zoolapalooza explained that there was a food truck so the audience could eat and watch the performances. "The main event is definitely watching the performances." she continues.
Describing the event Nixon shared "I loved performing for the crowd since it included a mixture of my friends as well as a lot of zoo students that I have never met before and the ag area was a great venue that really gave it a festival feel as there was a mixture of people sitting down on blankets as well as standing up in the front engaged." 
"For some sets, students were dancing in the front and anytime I asked questions or interacted with the crows they always responded back with the best energy which definitely made the experience even better," said Nixon. She described the crowd would sing along and cheer for her and make it easy and comfortable to perform. 
Shimi Goldberger, a student who attended this year's Zoolapalooza said, "I loved the performances. There were so many great bands, both of my friends and people I hadn't met before. The overall atmosphere of the night allowed my friends and I to sit on the grass and relax for some songs, but also get up and dance for others. It was a perfect balance of cam and upbeat music." 
Goldberger described she had the best time and mentioned that she hadn't gone to any previous Zoolapalooza so this was her first experience. She advised, "I would absolutely recommend future students to go if they get the chance." 
Nick Rivera, another student who attended Zoolapalooza said "I enjoyed all of them, I think everybody did an amazing job and I'm glad that everybody felt comfortable enough to showcase their talents." 
Rivera attended last year's Zoolapalooza and commented "Last Zoolapalooza was just as good, one of my friends performed last year and the rest of the sets were also very god so i was looking forward to this year and it definitely did not disappoint so 10/10 would recommend," 
Zoolapalooza as always was a big hit to the crowd. We hope you had a great time! 
Leave a Comment
Your donation will support the student journalists of North Hollywood High School. Your contribution will allow us to purchase equipment and cover our annual website hosting costs.