North Hollywood High School lost against Campbell Hall on Friday, August 18, 2023. The score was 6-21. However, the Huskies have a chance to prove themselves at the next game this Friday, August 25, 2023 against Canoga Park. 
Number 60, Christopher Renteria, explained, "I'm a little hurt right now, but I'm prepared to win."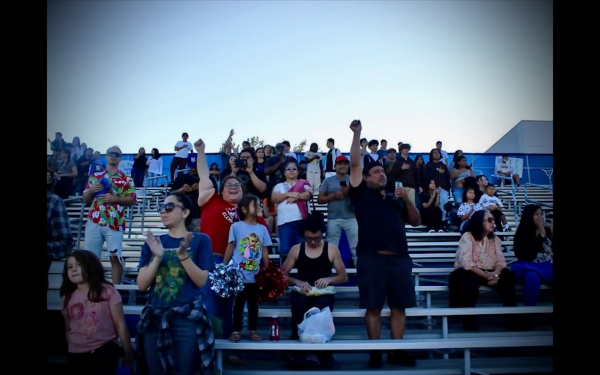 Last Friday the football team didn't have most of their starters playing, so the game didn't show the team's true potential. We may not see these players until the season starts due to injuries, and the fact that these first four games are non-league. 
Coach Faer wants to focus on the league. He is planning on going 6-0, and has pushed these athletes to be confident in their abilities to play and conditioned to last a full game. He has made sure that these players are strong, not only physically, but mentally as well.
Coach Faer's ambition, motive, and drive is like none other. He is determined to play 14 games this season, and win against the whole division. 
In the game against Campbell Hall, Captain Jaylin Burt ran 159 yards and scored a touchdown. Captain Andy Barrero made a whopping 6 tackles that game, Markiyh Shepard had 1 interception, and Captain Nate Arlauskas had a QB rating of 39.6. 
In their last game against Arleta, Canoga Park's Santino Grisco had 25 receiving yards, and Jesus Rosales had 63 rushing yards and 7 tackles. Jonathan Lopez made one fumble recovery, and Anthony Medina had a QB rating of 40.6. 
Our stats are very similar. However, we have Captain Jaylin Burt, the 2022 All Conference Offensive player of the year, and new player Markiyh Shepard who has a lot to show out. It's safe to say that North Hollywood has the best running backs in the league. 
Canoga Park also has a new offensive coach. This coach was the previous coach for Poly High School, and last year the Huskies won against Poly 54-7. Therefore, the Huskies have a good chance of winning against Canoga Park's tactics. 
Number 20, Daniel Banegas, said "We feel excited, confident, and prepared."
We feel excited, confident, and prepared.
— Daniel Banegas
Canoga Park lost on Friday August 18, 2023 against Arleta 0-57. Last year the Huskies won against Arleta 16-0. We could either assume that Arleta got better since then or Canoga Park isn't as good as North Hollywood High School.
With a past win against Canoga Park's coach and Arleta, whom Canoga Park lost to, Huskies are optimistic about the coming game.
Number 12, Raymond Perez, stated simply, "No comment. We'll do what we do."
Number 23, Andy Barrero, said "I feel prepared for Friday night's game. This is my senior year, so I want to give it my all this season, and hopefully win the whole season."
Come support your fellow Huskies on Friday August 25, 2023 on North Hollywood High School's field. Our coaches and players are determined to pick up where they left off last season, and they are prepared to perform even better.