Last Thursday, October 12th, North Hollywood's volleyball team held their Senior Night in the new gym! Varsity and junior varsity played against the Arleta Mustangs, resulting in both teams emerging victorious!

Varsity won all three sets, though the game was quite close. The Huskies beat the race to 25 points every time, but Arleta was close behind with 23 in the second and 21 in the third. 
However, North Hollywood played well and was able to pull off the win, making their Senior Night even more memorable. 

Varsity co-captain and senior, Sharron Kozin (#14), said, "I think I did really good. I think I played the best I could and I think my teammates also carried their weight."
Junior varsity players, Judith Arrendondo Peña (#6) and Natalie Garcia (#17), agreed. "They played really good today," Arrendondo Peña added excitedly at the end of the night. 

Following their win, the team held a parade for their senior players. 2023's celebrated seniors were Kozin, Joceline Alas-Castillo (#8), Sarah Huntsman (#13), Bridget Martinez (#4), Jacqueline Puentes (#15), Yael Sturba (#10), and team manager, Siah Lee.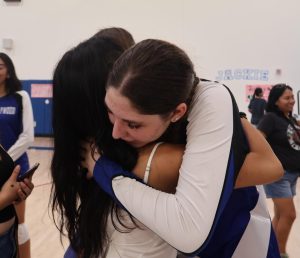 Players were joined by their family and received an assortment of gifts; flowers, posters, candy, "Senior" sashes, and more. Coach Cruz shared a few words about each girl while the cheer team rooted them on. 
Understandably, people got quite emotional. "I'm so sad! But we won!" Huntsman said through tears. "My season is over and that's so sad, but we still have a tournament and playoffs."

Arrendando Peña felt the event was "super sad, but it was a good game. But, [the seniors] were very kind. It was a good season. I love them. I'm gonna miss them! It was very emotional but I loved it."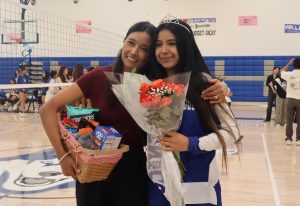 Puentes didn't shed any tears, but she share, "I feel so excited. I'm not that sad, but that's just because I'm so happy that everyone's here together. And we all really had a good time, like even before the game everyone was hype…I'm just so happy honestly that like this season went the best that we could have made it."
"Senior Night was great," Kozin summed up. "It was full of memories. And it's great to see how each senior becomes better and better…I think it lived past my expectations."
"I feel so loved and so grateful," Huntsman concluded.