As NoHo's construction continues, ASB cleverly decided to host Club Rush on the field, November 3rd. With the vast open space, it would hold all who were interested in supporting clubs.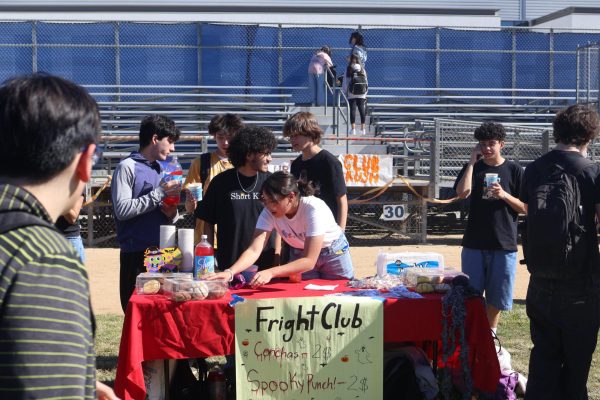 Embodying the feel of a Farmer's Market, like every year, students got their hands on whatever intriguing dishes they could find with however many tickets were at their fingertips. 
Because of the different set up, Huskies had varying experiences. 
A part of the NHHS UNICEF cabinet, senior Griselda Salinas expresses, "Having Club Rush take place on the field was a brilliant idea. It was a spacious fit not only for the clubs but for participating students as well." 
Salinas adds, "It offers a lot of space for students and prevents having severely crowded spaces like there had been when it was held at the quad."
Adriana Hernandez, NoHo Bakeology's vice president, shared similar sentiments, "The vibe felt more alive…ASB put [on] music in the background and it was sunny that day." 
Hernandez agreed that, "I prefer to see this type of club rush…having Club Rush in the quad was packed and many couldn't pass through."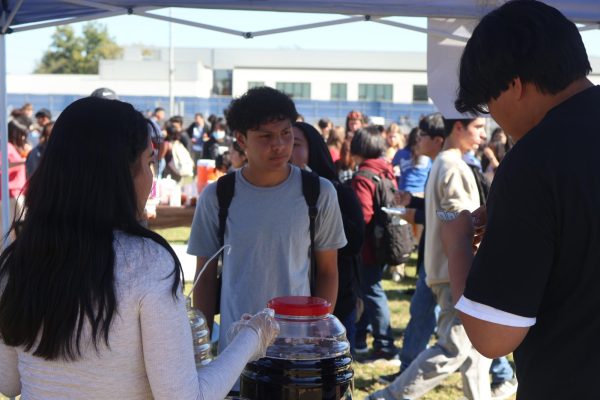 Hernandez especially emphasizes, "I like how many [students] were able to find club stands easier, and how the tables were arranged as well. As I took part in selling during Club Rush, for [NoHo] Bakeology we were able to make more [sales] compared to last year and people were able to get access to our stand easier." 
However, the commotion of Huskies urgently waiting for delicious treats in crowded lines added to the pressure of selling out, especially under the bright sun on a fall day. 
Senior cabinet member of Girls Build, Addison Leon-Portillo agrees, "I can also say that the aesthetic of it [Club Rush] was better and it was much more organized compared to the years before." 
Leon-Portillo does admit though, "I did miss the vibes of the old quad." 
She especially shares that, "…the amount of clubs selling," added to the different feel of this year's Club Rush. 
With 50 clubs on the field, carrying bold posters and large canopies, Leon-Portillo continues, "It gave me and my board so much more anxiety because of the fear that we weren't going to sell." 
Nonetheless, Leon-Portillo especially observed Huskies' creativity at Club Rush as they catered, "Dave's Hot Chicken, Chick Fil A, Korean BBQ, and the stand next to me was selling these amazing dumplings and addictive Thai tea." 
Girls Build cabinet member adds, however, "I think I would like to see a smaller amount of clubs…not every club had a lot of sales…I think next time it's [Club Rush] in the field we add more shade towards the meetings and provide more seating." 
Yet, Senior Class President, Jocelyn Alas-Castillo, contrasts this and explains, "The vibe on the field was very communal and lively…With being able to pre-order tickets, there was more excitement because we could plan ahead and use the lunch time to…enjoy the fair instead of waiting in line." 
She makes it clear that she would, " … like to see this [type of] Club Rush continue because it felt closer to being able to see the school together on the field." 
Alas-Castillo recognizes that, "The 'Quad Club Rushes' definitely had their mark on our Husky history," however, "… having club rushes on the field should be the start of a new beginning."