Teachers aim to prepare their students for the real world through lessons, group work, and presentations. But how often do teachers bring real life career opportunities into their classrooms? That is what Ms Rojas, SAS AP Government Teacher for senior students brought to her students on Friday November 3rd. 
Ms Rojas announced to her class previously that week that Congressman for California's 29th District Tony Cardenas would be sending two field reps to talk to her students about career opportunities in politics.
AP Government student Jasper Hannah shared his gratitude for this opportunity: "I really appreciate Ms Rojas for getting the field representatives to  come…she [invited] them to give us a better understanding. I really appreciate how far she goes for all of her students."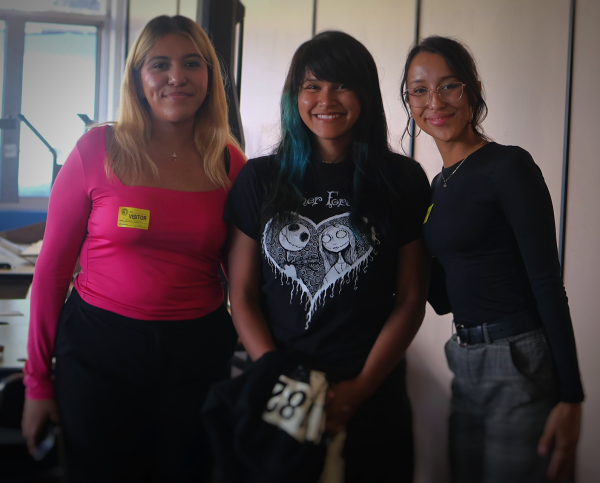 AP Government student Adriana Perez shared her excitement about the field rep talk, saying "I was very excited. Meeting field representatives is not an everyday occurrence, and especially not meeting [representatives] from a congressman you're already knowledgeable on." 
Hannah also shared his feelings about the field rep talk: 
"I was really excited [to hear the talk, because] I want to get into the government…I [wanted] to learn [from] someone who had experience, and knew how the government works." 
Cardenas represents San Fernando, North Hollywood, Mission Hills, and Valley Glen, among other neighborhoods in the Valley. Cardenas has been serving in Congress since 2013, and specifically focuses on legislation involving crime prevention, youth development, strengthening relationships between America and Central America, and protecting student athletes. 
Two field representatives for Congressman Cardenas gave the afternoon presentation to the students: Field Representative Laura Juarez and Field Representative Gabriela Agarie. 
The field representatives split the Congressman's districts into North and South. Juarez represents the North district, and Agarie represents the South. Agarie works with the Congressman on issues such as housing, nutrition, and animal rights. Juarez works with the Congressman on primarily issues concerning the environment. 
While an initial part of the presentation was explaining the legislative and bill making process, the focus was on explaining the role of a field representative.
"We work to update the congressman on district and local issues," Juarez explained to the students. "We plan and organize community events, [and] if we see that there's an issue that important to the community, we plan an event for that."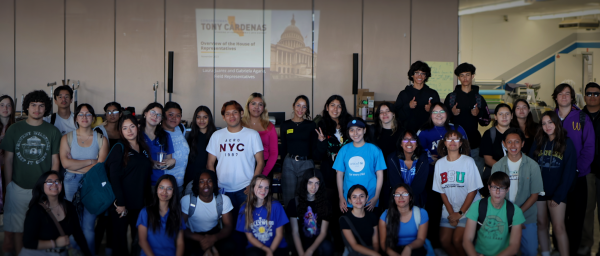 Juarez elaborated on the long hours required of a representative: "We don't have a set schedule, we aren't nine to five, [yet] we do it because we love our community and we know our community needs that push to help it grow more." 
The field representatives also elaborated on their pathway to their position, and how they got to work for the Congressman. 
Agarie started at Pasadena City College, before transferring to Pomona and participating in their international Model United Nations program, eventually becoming a translator for the UN general council. She interviewed with the San Fernando Valley district director for Cardenas, the chief of staff, and then finally, the congressman, where she got her position. 
For Juarez, her path was different. She got a degree from Cal State LA to become a speech therapist, and even worked to get a lobotomy license. "I just wanted to give everything a try," Juarez candidly told the class, "And I did."
However, after finding her way to politics and  working with Cardenas for a month, she's found a career choice she's settled on: city planner. 
"I want to do something that has to do with helping my community grow," Juarez exclaimed.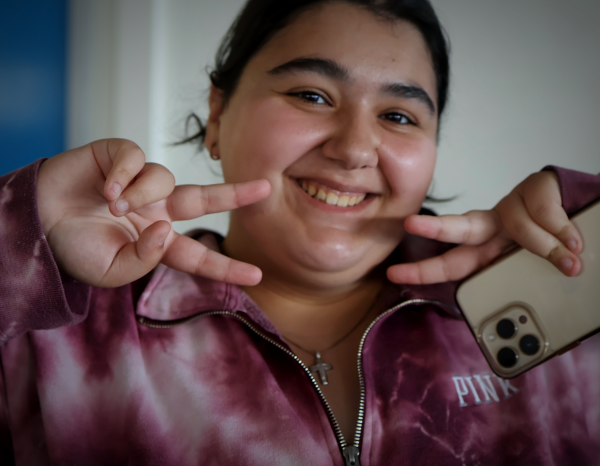 A number of students at NHHS are interested in politics, including Perez.
"Getting involved with your community is extremely important at the political level…politics and the law can not be separated from each other. I've always made a grand effort on staying informed with both," she said.
Hannah also shared this importance of government at the community level: "Get involved with your community at the political level. Having an involvement makes you more connected…[it helps you] get your [voice] heard. 
On issues relating to drug use and homelessness, however, both Perez and Hannah believe the talk was only the first step. 
"I would ask [Congressman Cardenas], "What is his plan to address the homelessness problem in LA? [I want to learn more about] issues Congressman Cardenas has already addressed in the valley, such as homelessness, for one," Perez stated. 
Hannah also added, "Here, we have a lot of [homeless individuals]. There is stigma, [and I want to address that.] The Congressman [is participating] in many committees are [issues] that I also agree with…he is good at representing his constituents."
While the talk was only for an afternoon, the effect on NHHS students interested in a career in politics will last a lifetime.