It's no question that North Hollywood Huskies are passionately involved in creating safe spaces where students can build new friendships, perfect their interests and goals, as well as add on to their skills such as leadership and taking initiative – otherwise known as clubs!
In previous years, NHHS has exceeded about 100 clubs, and as clubs are still in the process of being approved this 2023-2024 school year, there are even more new clubs on the rise! 
One prominent club here at NHHS is Key Club, a community service based organization made not only to serve NoHo, but the community as well.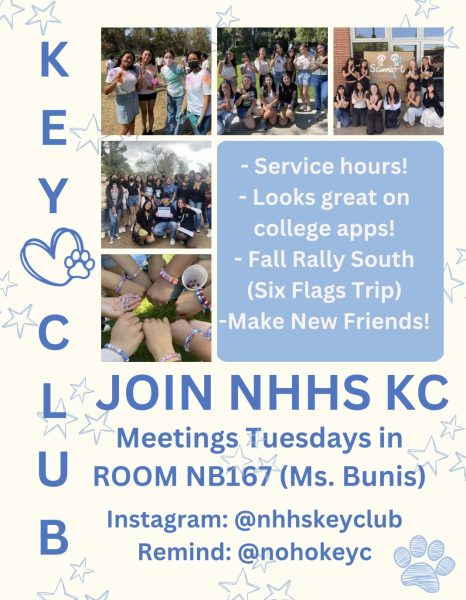 Ashlyn Castro, the President of Key Club, recounts, "Key Club International is the very first club I joined here at North Hollywood as a freshman." Castro emphasizes her enthusiasm and excitement to lead the club this school year, as she knows what it means to be a dedicated leader and is passionate about the club's purpose. 
Moreover, Castro makes it clear that everyone should know that Key Club is, "A tight knit community filled with people just like you… who want to make a difference in our community whether that be at school or bigger means!"
The Key Club President reiterates, "The purpose of Key Club is to provide our members with opportunities to perform service, build character, and develop leadership skills…create life-long friendships, and be part of the largest student-led organization in the world."
The Key Club meets Tuesdays at lunch in NB167, Ms. Bunis's room. You can find them on Instagram at @nhhskeyclub and on Remind at @nohokeyc2.
Another foundational club here at NoHo is Medical Club, established during the pandemic when incoming freshmen (now seniors) underwent school over zoom.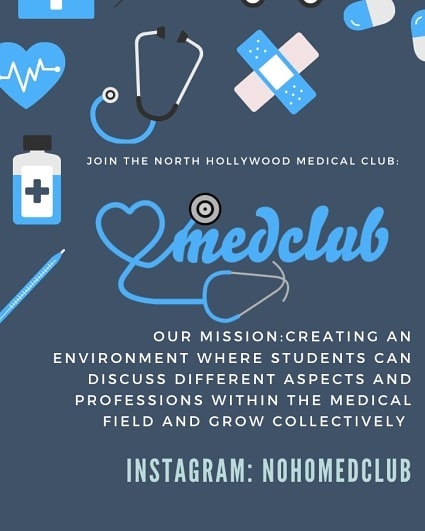 Rishabh Garg, who started the club his freshman year over Zoom, states, "I made it my vision to create a community where other students like me with interests in the medical field can engage in discussion and learn from professionals." 
Even with the uncertainty of the pandemic, Garg never gave up on his vision, and ultimately the club has  moved forward since October 18, 2020. 
Medical Club is all about the "…aim to explore the diverse and fascinating aspects of the medical field through various activities and events," such as, "…opportunities…through our MedConnect sessions." Essentially, MedClub invites guest medical professionals to share their experiences in the medical field and wisdom with prospective medical students. 
Garg continues, "We hope that discussions during our MedZone meetings about current medical topics give an opportunity for all of our members to voice their opinion and have a good time."
The Medical Club meets on Fridays at lunch in C231, Ms. Deutsch's room. You can find them on Instagram at @nohomedclub and on Remind at @nhhsmed. For more information, you can view the club website at http://www.nohomedclub.com
On the rise is one club in their first year at NHHS: Video Production Club. The club's vice president, Luis Bernal, shows much enthusiasm about the club. He says, "Our club was created quickly…When club applications were open, I turned it in as soon as possible…"
Bernal explains, "It's about teaching students how to make videos, from filming, acting, directing and editing." He also adds the club is not only about creating content, but , "discussing other topics they feel need to share as videos…" Overall, the club explains "Our goal for this club is to teach students how to make cool videos …of different genres or videos."
The Video Production Club meets on Thursdays at lunch in C150, Mr. Rondini's room. You can find them on Instagram at @nhhs_videoproduction_club.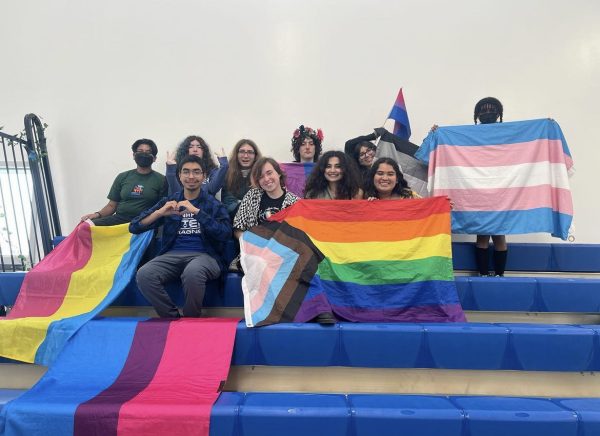 Next, an embracing and safe place within our school, Gender Sexuality Alliance (GSA)! Rei Smartt, vice president of GSA, exclaims, "I'm so excited to help lead GSA this year. This is my second year on the board… and I hope to make this year just as great as the last two."
Smartt emphasizes, "The GSA is a safe space for students to learn and take pride in LGBTQ+ identities! It is a safe place for all, regardless of how you identity." 
They recount getting the club on its feet, "We already knew many students who wanted to join or continue to be a part of the club…It can get rough out there for queer teens, and I want students to know that there's always a place to turn to." 
Lastly, Smartt assures that, "We hope to make a chill environment that can be informative when it needs to be."
The Gender Sexuality Alliance meets on Fridays at lunch in 003B, Ms Buccolo's room. You can find them on Instagram at @nhhs.gsa.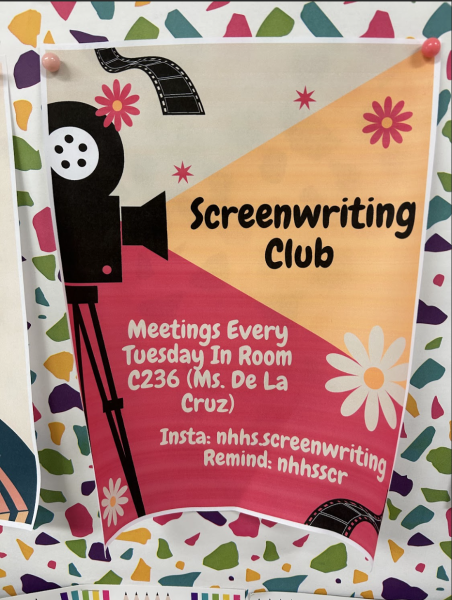 Another newly established club here at NoHo is NHHS Screenwriting Club. Sherman Kim, the club president, expresses, "My vision for this club was to encourage others to exercise their creativity and write stories through scripts." 
Kim shares that, "Starting a club is something that I've always wanted to do…Creating art is most satisfying when a group of people come together to share their own ideas and perspectives." 
To continue, Kim explains, "…screenwriters are the ones behind the core idea of a film – the story wouldn't exist without them. As a club, we want to celebrate the art of screenwriting and teach people how important and fulfilling it really is." 
The club's goal is "…to spread knowledge on the basics of crafting and analyzing screenplays while also inspiring and working with a community of young writers." 
The NHHS Screenwriting Club meets on Tuesdays at lunch in C236, Ms De La Cruz's room. You can find them on Instagram at @nhhs.screenwriting and on Remind at @nhhsscr.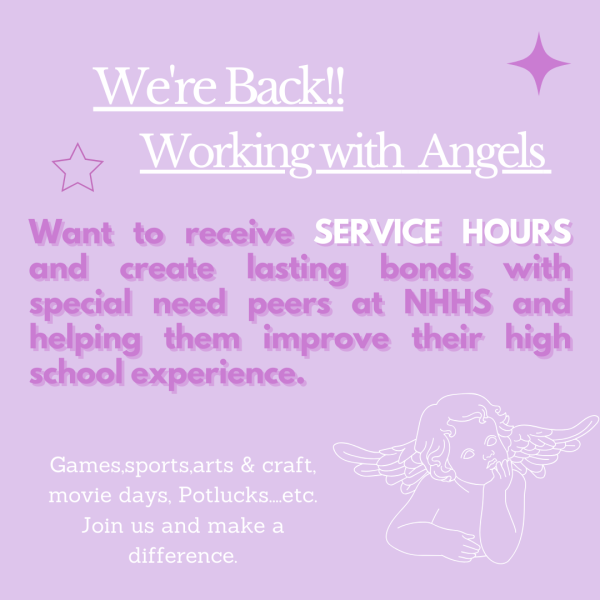 Another longstanding club here at NHHS is Working with Angels. Club president, Anahi Velasco, reveals, "I am nervous about it, but I am confident I am going to make this club work, especially with the members I have that are so committed to this club."  
Velasco makes it clear that Working with Angels "…is a club for everyone and the good side is that if people end up joining they do get service hours!" 
Working with Angels president informs us that, "The club is fun, creative, and you make new friends too!" A part of WWA is you get to create new experiences with Special Education students at NoHo as "they deserve to be friends with everyone in the school." 
"I want people to get the experience and warm feeling of them [Special Education students] just bringing a little bit of joy into your day." 
Working with Angels meets on Mondays and Thursdays at lunch in C143, Ms. Salcido's room. You can find them on Instagram at @working.with.angels and on Remind at @wwa23-24.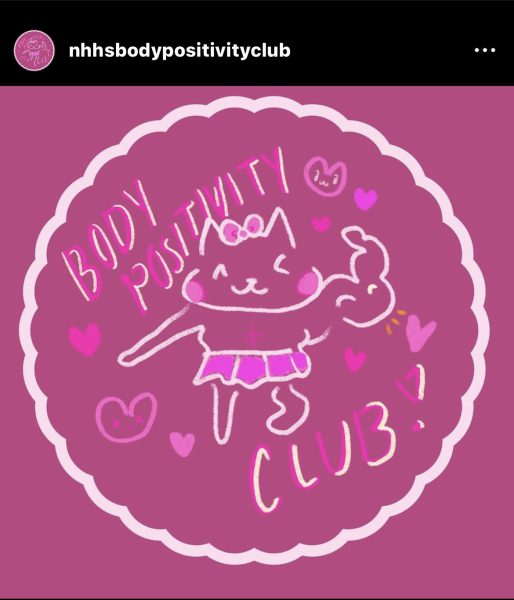 Additionally, an advocacy and positivity based club here at NoHo is NHHS Body Positivity Club. Founded by Ava Hernandez and Kat Mercado, the co-presidents admit that, "I was looking through the clubs this year,  and became really surprised when I found out there wasn't a Body Positivity club." 
They shared, "I really wanted to create that safe haven for students, especially since body image is a really big struggle that high schoolers, and people in general need support with." 
Their main goal is to "…advocate North Hollywood High School students about mindfulness and positivity for one's body. Kat and I strive to encourage body confidence, self-acceptance, and self worth."
They especially want their members to understand that, "Making sure the students are comfortable and well-respected is our number one priority. We want to have our members feel safe to ask and learn about the human body and how to keep it healthy both mentally and physically!" 
The Body Positivity Club meets on Wednesday at lunch in C247, Ms. Conde's room. You can find them on Instagram at @nhhsbodypositivityclub and on Remind at @nhhsmeow.
Overall, there are all kinds of clubs to join here at North Hollywood High School, from safe places, to creative environments, to informative places, Huskies are welcome to join or create any club they are interested in!